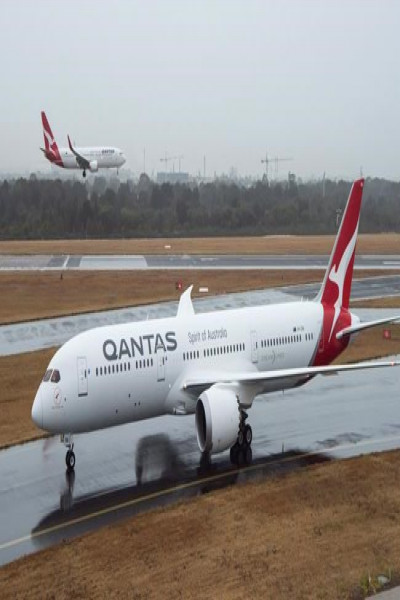 MONTREAL — A Quebec biofuels company has signed its first deal to power an airline's jets with energy grown from Canadian oilseeds.
Agrisoma Biosciences Inc. of Gatineau will supply biofuel to Australia's Qantas Airways made from Carinata seed, a non-food, industrial type of mustard seed that produces oil suitable for aviation and diesel fuel.
The partnership is the first of its kind in Australia and will see Agrisoma work with Australian farmers to grow Carinata. That will be complemented by seeds grown elsewhere to feed its global travel network.
The long-term goal is to grow the crop on 400,000 hectares to produce more than 200 million litres of bio jet fuel and replace 30 to 50 per cent of the airline's annual fuel needs, said Agrisoma CEO Steven Fabijanski.
He expects Qantas will begin to use the biofuel in 18 to 24 months. International fuel standards limit biofuels to replace up to half of fossil fuels, however traditional blends range between five and 30 per cent green fuel, he said.
Fabijanski said the Agrisoma's partnership with the Australian carrier was a natural fit. 
"The ability to be able to look at accessing this type of fuel on a global basis was certainly attractive to them," he said.
Qantas plans to conduct the world's first biofuel flight between the United States and Australia in January to show the benefits of the renewable fuel, Fabijanski added.
Australia's national carrier conducted its first biofuel trial flights in 2012 using Airbus planes on two domestic routes. The fuel used was derived from cooking oil that was mixed evenly with conventional jet fuel.
Qantas said it chose Agrisoma because the Carinata seed can be grown in Australia and the Canadian company has a proven track record and is committed to establishing a supply chain.
"Carinata is a seed crop that can be developed at a scale," Alison Webster, Qantas International's chief executive, wrote in an email. "Tests have shown it to grow efficiently in our Australian climate and it provides biofuel that has as good an emissions reduction as any biofuel, if not better."
Webster added the airline is always looking for ways to reduce its carbon footprint, something that is appreciated by customers.
"We know that consumers expect businesses to take action to help reduce carbon emissions and using sustainable aviation biofuel is a key way for airlines to do this."
Agrisoma said its oil produces 77 per cent lower greenhouse gas emissions than fossil fuels.
Fabijanski said sales of Carinata will be helped by a global airline carbon reduction scheme and challenges other biofuel suppliers will face in obtaining enough animal fat and waste oil.
"There's a huge potential because all airlines have signed on to a scheme where they're going to be carbon neutral by 2020 and then cut their carbon footprint by half by 2050," he said.
The airline industry produced 781 million tonnes of carbon dioxide in 2015 or 12 per cent of emissions from transportation sources, according to the Air Transport Action Group.
Less than five per cent of flights are currently flown using biofuel blended with traditional jet fuel, but Fabijanski hopes that half of the 300 billion litres of fuel used by the airline industry will eventually be replaced by biofuel. 
Biofuel blends currently cost five to 10 per cent more than traditional jet fuels depending on location. But Fabijanski said biofuel prices are more stable than fossil fuels and the cost differential should eventually disappear as supply expands with distribution hubs beyond Los Angeles and Oslo.
Ross Marowits, The Canadian Press
Share This:
---
More News Articles