Calgary, Alberta, Canada: August 16, 2017
Hazloc HeatersTM, a leading manufacturer of industrial unit heaters for hazardous and severe-duty locations, is pleased to announce the introduction of new 230V models, built-in thermostats, built-in disconnect switch and continuous fan options available on the AEU1 series of Explosion-Proof Electric Air Heaters.
The AEU1 series of unit heaters are designed for industrial applications to provide primary or supplementary heating for comfort or freeze protection in areas that are classified as hazardous locations (Gas or Dust atmospheres).  AEU1 models are CE Marked and certified to meet ATEX, IECEx and EAC Ex  Zone 1 & 2 or Zone 21 & 22 requirements with IP55 & IP65 ratings respectively and a T4 (135°C) temperature code.
The three cabinet sizes (from 3 to 30kW) of AEU1 heaters include our ExCaliber™ high performance liquid-to-air heat-exchanger cores that are available in twenty-six 230VAC or 400VAC, 50 Hz model choices to meet your specific heat output requirements and sixteen 480 Volt, 60 Hz models to accommodate shipping vessels, offshore rigs or other applications requiring 60 Hz.
The rugged and versatile AEU1 heater incorporates a high quality immersion heater, IEC motor connected by cable and cable glands for easy field replacement, a sturdy 2 mm (14 GA) steel cabinet with epoxy/polyester powder coating for corrosion resistance, large control enclosure with an extra port for convenient wiring of an external room thermostat, and enclosure O-rings to minimize moisture ingress. Standard safety features include two temperature high limits and a high-quality pressure relief device.
Hazloc HeatersTM General Manager, Darren Ochosky, stated, "The AEU1 series was the first unit heater of its kind in the world to receive the ATEX, IECEx and EAC Ex Gas and Dust certifications. The addition of new models and options reinforces our dedication to helping our customers grow and prosper by providing leading edge industrial heating products, technical expertise, and outstanding service." Hazloc HeatersTM is also committed to a high standard of quality and on-time delivery performance.
Hazloc HeatersTM is based in Calgary, AB. For further information, please contact Darren Ochosky at 1-866-701-Heat (4328) or 403-730-2488 or visit www.HazlocHeaters.com.
-30-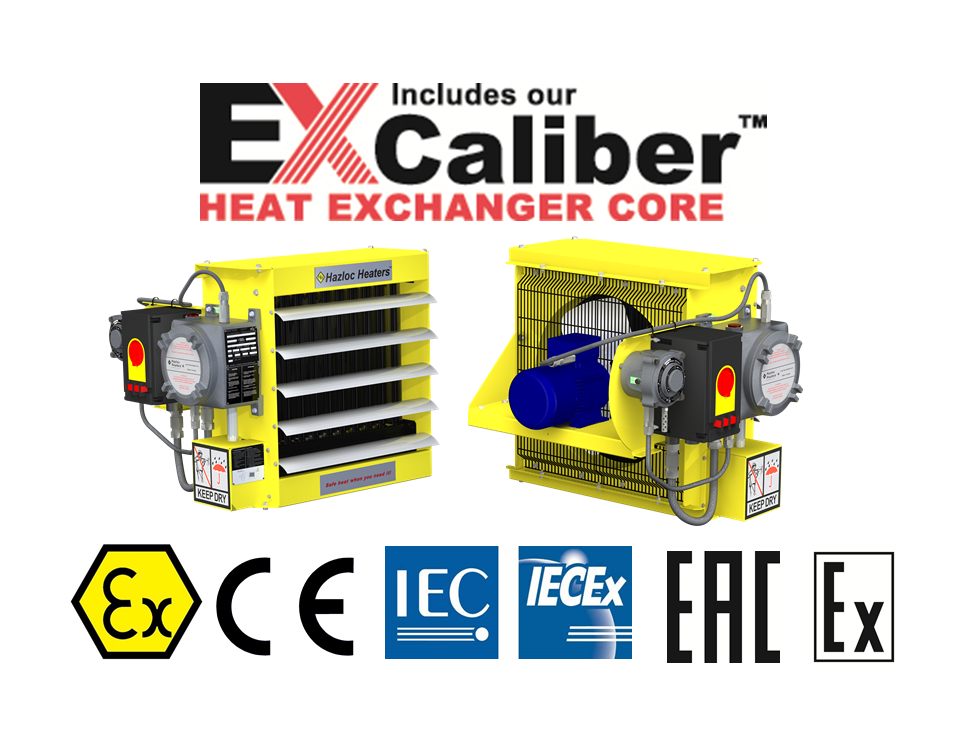 Share This:
---
More News Articles