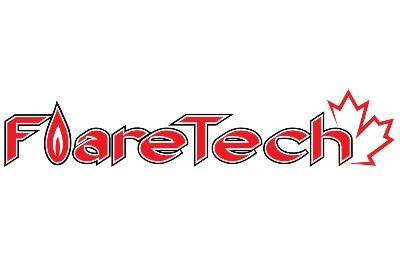 FlareTech Inc. is a family run business based out of Stettler, Alberta, established by John, Bo, and Guy Cassidy in 2009.
With over 40 years continuous experience in the Flare Industry, FlareTech Inc. is committed to the highest quality of manufacturing specifically designed to perform in all extreme environmental conditions. FlareTech has become a leading manufacturer in flare systems across North America. We are committed to delivering the highest quality and innovative products at competitive prices.
Figure 1 – 300 ft Tall Self-Supported Flare
FlareTech Inc. designs, engineers and manufactures custom flare systems to suit all flaring applications. Smokeless flare systems are our specialty, utilizing Air, Gas, & Steam Assist.  We also provide accessory equipment like Flare Knockout Drums, Flame Arrestors and Detonation Arrestors.
FlareTech's pilot ignition technology systems are designed for utility, air-assisted, and gas-assisted flares. Our robust ignition systems can be designed for new applications and retrofits in large domestic and international Oil & Gas operations. All FlareTech ignition systems meet or exceed the minimum requirements of applicable API, ASME and CSA standards, as well as jurisdictional regulations. Years of testing and field operations have confirmed FlareTech's ignition systems deliver superior, reliable, hassle-free performance in all operating conditions.
Our 22 000 sq. ft manufacturing facility, built in 2013, is where your project is designed and built from start to finish. Our welding bays are equipped with top of the line machines. All CNC plasma cutting, CNC brake bending, pipe cutting, and welding is kept in-house to ensure our projects are meeting our strict standards.
At FlareTech, no job is too big or too small. FlareTech prides itself on delivering the highest-quality, innovative, efficient & dependable products. All FlareTech products & equipment are designed & manufactured to meet the customer's specifications and all regulatory body requirements.
FlareTech Inc. is committed to continual improvement in training and written processes through Quality Management System ISO:9001:2008, and ABSA B31.3. Our manufacturing facility is fully certified to CWB, ABSA, ISO 9001, ACSA and COR requirements.  Our design team is licensed to provide professional engineering services for various jurisdictions. We are committed to building trust with our clients, supporting them through the entire life cycle of our equipment.
~ FlareTech Inc. is headed to the 8th Annual WTX Oil & Gas Show on March 23-24th. Make sure to stop by our booth and say hi, we'd love to meet you. Be sure to show this ticket at the door to enter for FREE! ~
Please feel free to contact us at (403) 742-2212 or [email protected] to discuss your flaring and combustion system needs.
Share This:
---
More News Articles