Kingsway Instruments is excited to share the new Fluke 1770 Series Power Quality Analyzer for measuring, monitoring, and reporting power quality on three-phase systems.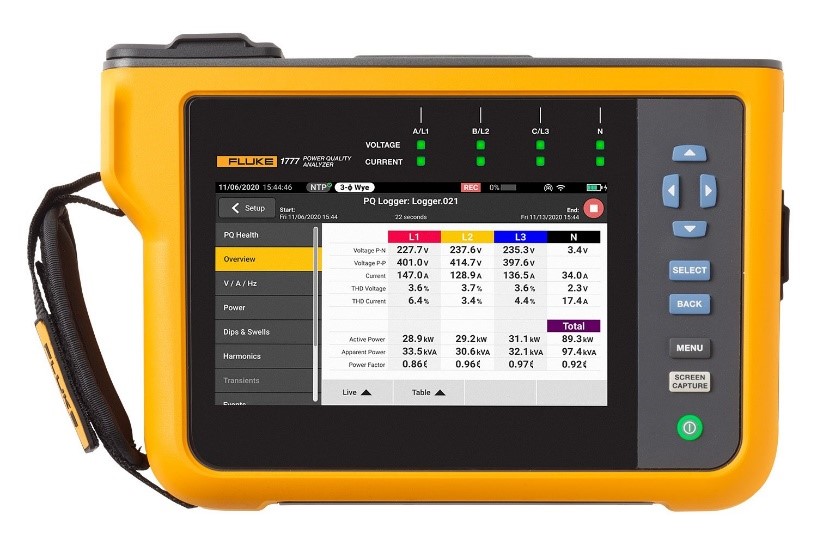 Automatic measurements. More flexibility. Better power quality troubleshooting.
Fluke 1770 Series Three-Phase Power Quality Analyzers eliminate the complexities of power quality logging, troubleshooting, and analysis. Engineered to be the faster, easier way to perform power quality studies, the 1770 Series offers automatic measurements, a straightforward user interface and setup, best-in-class specifications, and a simplified reporting platform. The instrument can also be powered directly from the measurement circuit, eliminating the need to find a power outlet or use a lengthy extension cord
With the 1770 Series you'll never miss a critical power quality event—from fast transients up to 8 kV, harmonics up to 30 kHz, dips and swells, as well as the voltage, current, and power measurements that enable you to characterize your electrical system.
Automatic measurement capture
Whether you're performing a quick system check or a detailed power quality study, consistent data is key. The Fluke 1770 Series offers a unique automatic measurement capture system that helps ensure you're collecting the right data every time, while still giving you the flexibility to select and adjust specific parameters as needed. More than 500 power quality parameters are captured by default and the guided setup makes it easy to select the right parameters for the system you're working on. Logged data is instantly viewable, downloadable, and shareable with Fluke Energy Analyze Plus software so you never need to wait to finish a session before reviewing results or analyzing data.
High-speed voltage transient capture
Transients negatively impact otherwise healthy systems every day and their potential to damage your equipment can't be underestimated. Whether your system is experiencing impulsive or oscillatory transients, the results can be devastating and cause problems ranging from insulation failures to total equipment failures. The Fluke 1775 and Fluke 1777 incorporate advanced transient capture technology to help you clearly identify high-speed voltage transients, so you have the data you need to stop them in their tracks. The Fluke 1775 Power Quality Analyzer has 1MHz sampling capability to capture fast transients, while the Fluke 1777 Power Quality Analyzer has 20MHz sampling capability to capture the fastest transients in high detail.
What's next?
Contact Kingsway Instruments today to get a quote or demo on the new Fluke 1770 Series Power Quality Analyzers! Available for both rental and purchase.
Kingsway offers one of the largest stocked inventories of Fluke Tools in Canada with competitive pricing and NIST Calibration Certificates.
Email: [email protected]
Phone: 1-866-KINGSWAY (546-4792)
Website: https://kingswayinstruments.com/collections/fluke-meters-canada
Kingsway Instruments is Canada's Most Trusted Calibration Lab and Test Equipment Supplier for Electrical, Dimensional, Humidity, Pressure, Temperature and Torque equipment. For over 50 years, we have provided Sales, Rentals, and Calibration services to customers across Canada. Kingsway is a proud distributor of Fluke, Megger, Crystal, Ralston, Flir, Starrett, Mitutoyo, Stanley Proto, Alkitronic, and other premium industrial brands.
Our ISO 9001 certified calibration lab provides NIST traceable certificates, with astonishingly fast turnarounds no competitor can touch and meticulous work by seasoned technicians, using the most advanced calibration equipment. No long hold times, no robots. Talk to someone who can help you—including the technician working on your measurement instrument.
Share This:
---
More News Articles